Maeve's
Upcoming Workshops
Book your spot on my next workshop below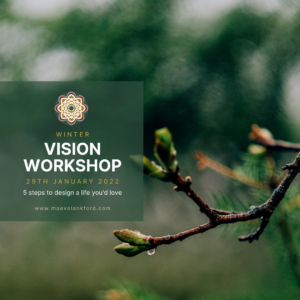 Are you
Feeling successful in some parts of your life and completely out of balance in others?
Spinning your wheels and finding it difficult to get ahead?
Totally stuck, knowing you want to change things but not knowing how?
As we prepare for a new year with continuing disruption globally, are you longing to make sure that 2022 is better, happier, more successful than ever despite the challenges?
There is a way forward that enables you to do that!
If you're ready to have a transformational experience and make 2022 your best year ever, join me and others like you to learn a reliable, repeatable, proven system for creating results you love. Discover how to clarify your vision and build your dreams step by step.  The life you'd love is totally possible for you and this workshop shows you how to achieve it, starting now.
On this LIVE virtual workshop, you'll learn how to
Understand and work with the two signals guiding you towards results you'd love
Simple thinking strategies that will guard you from fear, doubt & worry.
What successful people do to create sustained success.
Strategies to discover the next best step towards your dream.
1 critical thing you must give up in order to reach your dream.
Hear some REAL LIFE stories of people like you who have created great success in their lives by following these same strategies.
This is what some previous participants had to say after attending Maeve's workshops:
Excellent workshop! Really engaging. This should be mandatory. I am definitely feeling more confident!
The positive energy is fantastic. It's helped me re-focus on my dream, to recommit and decide again on my dream.
A great opportunity to reboot, stop, think, set the plan for the life you love in motion
Provides a framework and easy to use tools - An excellent workshop!
Standing Firm provided an anchor in the uncertain times and prompted me to go deeper at this time. Every aspect of the course and every resource sustained and nourished and nudged!
Thank you for a most inspiring afternoon! In a world of always rushing, it was such a privilege to step back and reflect on the importance of goals & dreams.