Maeve's
Upcoming Workshops
Book your spot on my next workshop below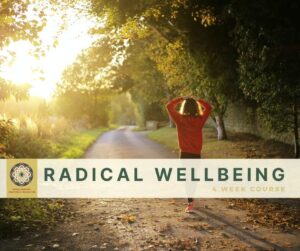 What if you could transform your approach to your wellbeing to be healthier, happier & more vital? Radical Wellbeing could be just for you!
Many people are struggling with the ongoing implications of the global pandemic. We're all 'pivoting' to adapt to the economic challenges inherent in this experience, colleagues on the frontline do their best to meet demands day in and day out and those who educate our youth endeavour to provide an effective educational experience whatever the circumstances. For everyone, ongoing uncertainty is taking its toll.
But what if it didn't have to be like this?
What if you could take some time now to radically transform your approach to your own wellbeing such that you emerge as someone who is healthier, happier and more vital than ever before. Radical Wellbeing could be just the programme for you!
Based on the concept developed by Stephen Covey, Radical Wellbeing says that for us to be at our best, we need to constantly make time to 'sharpen the saw', i.e. to look after our emotional, mental, physical and spiritual wellbeing.
Many of us do some of these things at least some of the time. But imagine if you were to do all of them, more consistently. What if you felt emotionally secure, mentally balanced, physically fit and spiritually nourished?
I invite you to take the next 4 weeks with me to start building your awareness of how you can improve your wellbeing in each of the four dimensions to radically transform your overall wellbeing.
And the added bonus? Being well physically, mentally, emotionally and spiritually has a hugely positive impact on every other domain in your life – your relationships are improved because you have more energy and are feeling better in yourself so can show up better for others in your life. You are more creative and energetic for work and how you share your time and talent. And you have more energy for hobbies and interests, energy and time that previously you longed for but couldn't seem to find.
Some of you reading this may be thinking that this all sounds great but that you have prioritise work or other commitments over your own health and wellbeing. If that's you, I'm reaching out to you especially and I share this quote from Stephen Covey:
"This is the single most powerful investment we can ever make in life – investment in ourselves, in the only instrument we have with which to deal with life and to contribute. We are the instruments of our own performance, and to be effective, we need to recognise the importance of taking time regularly to sharpen the saw in all four ways."
So come on this journey together, sharpen your saw and embrace full spectrum wellbeing.
What's involved?
We'll have a virtual call via zoom once a week
Week 1 – Physical Wellbeing
Week 2 – Emotional Wellbeing
Week 3 – Mental Wellbeing
Week 4 – Spiritual Wellbeing
I'll share new ideas, strategies and suggestions for about 45-50 minutes on each call, with some time at the end for Q&A. The calls are recorded and shared with all participants within 24 hours with an accompanying worksheet to support you in applying some of the ideas and tools in the intervening week. Additional bonus resources may also be included some weeks!
What makes me someone who can teach on the topic of wellbeing?
Let's start with what I'm not! I'm not a nutritionist, dietician or physical trainer and I will not be providing expert material on these topics.
You may also have noticed that I have and use the title: Dr. I am a Doctor of Philosophy and completed my doctoral studies in the Department of Peace Studies, University of Bradford, so no medical qualification implied or intended.
Many of you know me as a HR professional prior to my work as Coach and Facilitator. For over 25 years I've studied human potential and what enables people be at their best. To this end, I've read widely across the disciplines of psychology and positive psychology, coaching, neuroscience, leadership, spirituality. I've completed several coaching certification programmes as well as being a certified Life Mastery Consultant. The latter training includes modules on Health, Relationships and Mindset. I am an accredited Capacitar Tutor, with certification in Multicultural Wellness Education. I've completed a short course in Mindfulness and its application as a therapeutic tool and I'm a Registered Focusing Practitioner.
I walk my own talk and I teach what I know to be effective tools from their application in my own life and those of my clients.
If this doesn't sound like what you're interested in at the moment, I wish you every success in finding the right support for you at this time.
If this sounds good to you and entrusts you to undertake this training with me, I'm delighted to have you on board.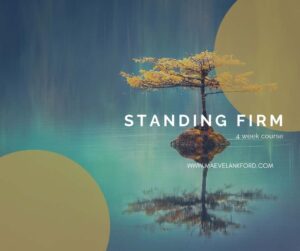 Standing Firm-
4 week course
Standing firm when your world is shaking
Standing Firm is a 4-week programme teaching strategies and tools to support participants in creatively responding to challenge and disruption in their lives and staying out of reactivity. Each webinar provides approx. 45 minutes of live input, with time at the end for comments, Q&A and support. Complemented with a worksheet/resources to apply the teachings between sessions, over the course of 1 month, participants gain:
Enhanced perspective on their current (and past) challenges
More optimistic outlook on what is possible in their lives
Tools to manage their mindset and create calm
Click here for full details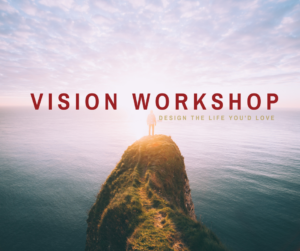 The breakthrough opportunity you've sought is here! This is your one stop spot for information & inspiration to start living your best life.
About the workshop
Does this sound like you?
Busy all the time but not making any real progress?
Feeling called to a better life, but don't know where to start?
Full of fear and anxiety when you think about making changes?
Feeling you have to wait til Covid is over before you can embrace new opportunities?
If you identify with any of this, the Online Vision Workshop could be just the break through you've been waiting for.
This workshop will help you connect with your vision for your best life and support you in bringing that vision from possible to predictable. You were meant to live a life you love and I will show you on this workshop where to start!
So if you are feeling stuck or facing a major life transition like retirement or career change or empty nest, know that there is a way forward! This event is where you will find the inspiration and support to (re-)connect with your passion and gather the momentum to get going and stay going.
On this LIVE virtual workshop, you'll learn how to
Create a clear vision for your best life
Let go of limiting and restricting beliefs and paradigms
Identify some actions to move you in the direction of your new vision
Hear some REAL LIFE stories of people like you who have had great sucess in their lives by following these same strategies.
This is what some previous participants had to say after attending Maeve's workshops:
Excellent workshop! Really engaging. This should be mandatory. I am definitely feeling more confident!
The positive energy is fantastic. It's helped me re-focus on my dream, to recommit and decide again on my dream.
A great opportunity to reboot, stop, think, set the plan for the life you love in motion
Provides a framework and easy to use tools - An excellent workshop!
Standing Firm provided an anchor in the uncertain times and prompted me to go deeper at this time. Every aspect of the course and every resource sustained and nourished and nudged!
Thank you for a most inspiring afternoon! In a world of always rushing, it was such a privilege to step back and reflect on the importance of goals & dreams.