Maeve's
Upcoming Workshops
Book your spot on my next workshop below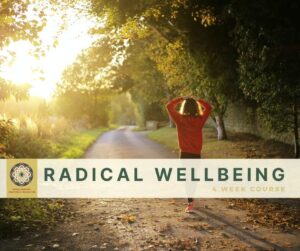 4 Week Course. Starts 5th May, 7pm
What if you could take some time now to radically transform your approach to your own wellbeing such that you emerge as someone who is healthier, happier and more vital than ever before. Radical Wellbeing could be just the programme for you!
Based on the concept developed by Stephen Covey, Radical Wellbeing says that for us to be at our best, we need to constantly make time to 'sharpen the saw', i.e. to look after our emotional, mental, physical and spiritual wellbeing.
Many of us do some of these things at least some of the time. But imagine if you were to do all of them, more consistently. What if you felt emotionally secure, mentally balanced, physically fit and spiritually nourished?
Being well physically, mentally, emotionally and spiritually has a hugely positive impact on every other domain in your life – your relationships are improved because you have more energy and are feeling better in yourself so can show up better for others in your life. You are more creative and energetic for work and how you share your time and talent. And you have more energy for hobbies and interests, energy and time that previously you longed for but couldn't seem to find.
So come on this journey together, sharpen your saw and embrace full spectrum wellbeing.
What's involved?
1 hour per week via Zoom, supplemented with a worksheet to experiment with the strategies suggested during the following week
Week 1 – Physical Wellbeing
Week 2 – Emotional Wellbeing
Week 3 – Mental Wellbeing
Week 4 – Spiritual Wellbeing
Here's what some past participants reported in terms of progress they were making during the programme and their experience of the content:
 "drinking more water, walking every night, using lovely oils in the diffuser, and making the small changes, and they are adding up to, above all, being aware!"
 "I have my bloods done, and realise my sugar is high, so I am addressing this.  I started pilates, walking more, drinking plain water (no dilute)  just loving it.   My colleague, is following a very strict health kick and has lost a stone and has more energy."
 "I have been listening to this week's recording.  I've listened through twice now.  It is brilliant.  I must say the way you dealt with this particular topic [spiritual wellbeing] was genious.  I really mean that.  It was brave and profound and it deserves an award."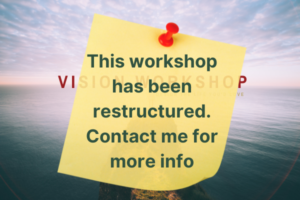 This workshop has been restructured. Please get in touch to find out more about how to take part
The Vision Workshop is Maeve's signature workshop, where you get to learn and develop the fundamental tools and strategies required for transformation in any area of your life.   
We will work together to build a vision for your life and then support you in creating the mindset and momentum to achieve outcomes you love, starting now.    
Most people spend more time planning their holidays than they do planning their lives.  Don't be that person!
The life you'd love is totally possible for you and this workshop shows you how to achieve it, starting now.
Are you
Feeling successful in some parts of your life and completely out of balance in others?
Spinning your wheels and finding it difficult to get ahead?
Totally stuck, knowing you want to change things but not knowing how?
We continue to experience massive global disruption. And maybe you have personal challenges in your finances, relationships, or health?  The good news here is that we are not at the effect of life, and we are not victim to any challenges.  You and I get to choose our responses and no matter what has happened up until now, we get to create what happens next.  
Would you love to learn how to ensure that 2022 is better, happier, more successful than ever despite the challenges? 
This workshop offers a way forward that enables you to do that!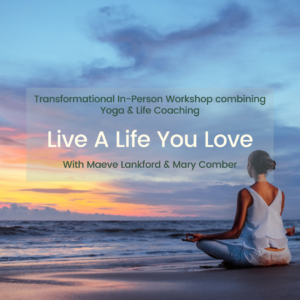 Live a Life You Love Workshop
Working in the beautiful surroundings of Nano Nagle Birthplace, this workshop is a unique combination of yoga and transformational life coaching.
Drawing on yoga postures, yoga nidra, breath work, meditation, and learning the fundamentals of how to successfully create change, this is an immersive opportunity to tap into and create your vision for a life you'd love and identify your next steps to achieve it. 
Date: May 27th, 2022: 10am – 4.30pm
Venue: Nano Nagle Birthplace, Ballygriffin, Co Cork, P51 CV91
Cost including lunch and Light Refreshments: €97
This is what some previous participants had to say after attending Maeve's workshops:
Excellent workshop! Really engaging. This should be mandatory. I am definitely feeling more confident!
The positive energy is fantastic. It's helped me re-focus on my dream, to recommit and decide again on my dream.
A great opportunity to reboot, stop, think, set the plan for the life you love in motion
Provides a framework and easy to use tools - An excellent workshop!
Standing Firm provided an anchor in the uncertain times and prompted me to go deeper at this time. Every aspect of the course and every resource sustained and nourished and nudged!
Thank you for a most inspiring afternoon! In a world of always rushing, it was such a privilege to step back and reflect on the importance of goals & dreams.